Welcome to the The Lerodan Star System Wiki
This wiki is for members of The Coalition of Governments . Here you will find information of the Lerodan Star System, history, nations,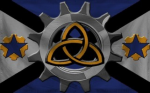 ideas, and creatures that reside inside of it. The main goal of this wiki is to create, document, catalog, and easily access information about our regions rich plethora of information. All members are free to add what they want as long as it is appropriate so don't be a stranger! :D
Try to remain unbiased in pages. Write like you are a historian from another nation. We don't need a series of ultra nationalist propaganda pages so just try to remain unbiased, I know at somepoint it will come out a little and that is expected. 
Try not to be provoctive towards other players. Saying things about them they don't agree with is unacceptable. Make sure you clear what you write with the people it effects. If nation A writes about a war between nation A and nation B then A needs to let B have equal imput. 
Spell check your posts before posting them. Admins can edit so if there is an issue it will be tweeked to make it look better.
Please add pictures to pages you make. It makes it look much, much, much better.
Direct any questions on how to post to me at Vanhania NS.
Featured Article!
Edit
  To help promote articles a featured article will be selected every week!
The Current Featured Article Is: Khalite Armed Forces
This is a page for Khalite's soldiery and methodology. The new Simon suits include more sensors and computing power for tactical use... (read more )
Key Pages
Edit
Latest activity
Edit
Photos and videos are a great way to add visuals to your wiki. Find videos about your topic by exploring Wikia's Video Library.
Ad blocker interference detected!
Wikia is a free-to-use site that makes money from advertising. We have a modified experience for viewers using ad blockers

Wikia is not accessible if you've made further modifications. Remove the custom ad blocker rule(s) and the page will load as expected.